SeeD pursues the following roadmap in order to mobilize novel genetic variation into maize and wheat breeding programs in a systematic manner: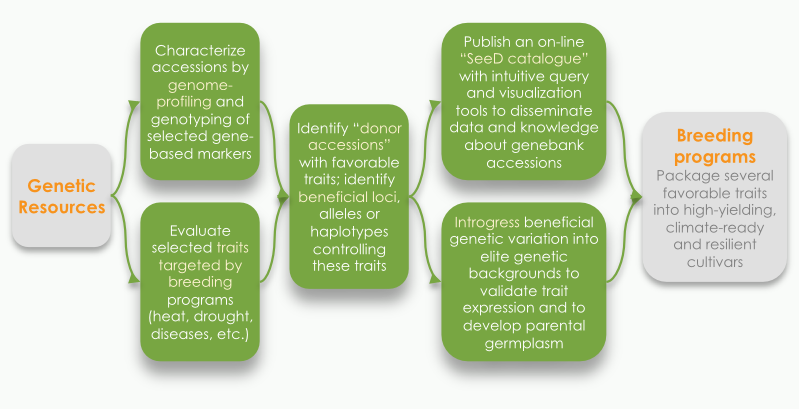 This roadmap is implemented both in Theme 1 (Maize) and Theme 2 (Wheat) of the SeeD research portfolio. Within each of these crop-specific Themes, we aim to strike a balance between 'low-hanging-fruit' opportunities and innovative, higher-risk/higher-potential-payoff ideas. In this way, we strive to generate and provide information, germplasm and tools that support breeders' current protocols and work habits, while also attempting to fast-track adoption of technology innovations that are likely to shape breeding methodologies in the future.
In addition to the two crop-specific Themes, which generate the 'core data and germplasm products' of the project, the SeeD research portfolio also includes a crosscutting theme, Theme 3, focusing on Capacity-strengthening. This theme is designed to generate 'auxiliary outputs'; human capacity (students, visiting scientist and short term course training opportunities, online training modules) and enabling software and analysis methods that enhance the uptake and use of data, knowledge and germplasm generated by the crop-specific Themes, particularly, but not exclusively, in the context of impact-oriented agricultural research in Mexico.
For more information please contact us at: seed@masagro.org